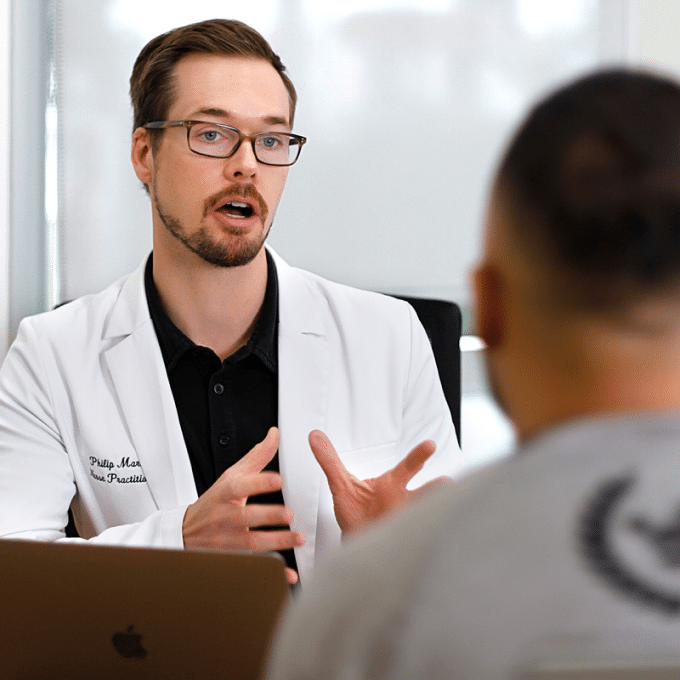 COMPREHENSIVE BLOOD PANEL
A comprehensive blood panel gives you a more complete picture of your overall health. By evaluating all of the results together you can spot possible early signs of diseases or conditions and notice trends going in the wrong direction. For example, you can identify too low or too high hormone levels and monitor how medications you are taking may affect liver and kidney function.
The first step is to get your comprehensive blood panel done – to check your baseline. The Comprehensive Blood Panel will give us a detailed 6-page report that will check your Total Blood Count,  Testosterone, Estradiol and other Hormone levels, Vitamins, Liver and Kidney function, PSA (Prostate), Thyroid, Inflammatory Markers and other parameters we need to know to help direct your care. If you are considering Growth Hormone Peptide Therapy, we can also check your IGF-1 levels, which is the preferred way to check your Growth Hormone levels.
Getting tested at routine intervals can allow you to see the way your body changes over time and empower you to make informed decisions about your health.
How often should I get my baseline bloodwork done?
Your doctor will typically recommend that you get routine blood work at least once a year, around the same time as your yearly physical.
But, this is the bare minimum. There are several major reasons you may want to get blood tests more often than that:
You're experiencing unusual, persistent symptoms. These could include anything from fatigue to abnormal weight gain to new pain.
You want to optimize your health. Knowing levels of various blood components, such as HDL and LDL cholesterol, can allow you to tweak your diet or fitness plan to minimize unhealthy habits (that you may not even realize are unhealthy). This can also maximize the nutrients you put in your body and more.
You want to reduce your risk of disease or complications. Regular blood tests can catch the warning signs of almost any disease early. Many heart, lung, and kidney conditions can be diagnosed using blood tests.
Do I need to fast before my blood test?
Yes. Please fast for at least 8 hours prior to your blood test. Fasting before the blood tests is important to help make sure that your test results are accurate. The vitamins, minerals, fats, carbohydrates, and proteins that make up all food and beverages can impact blood-level readings, clouding the results of your test.
Tip: Schedule your test as early in the day as possible. The hours you spend sleeping are considered part of the fasting period, as long as you don't break your fast with coffee or food once you're awake.
Can I drink coffee before my test?
Even if you drink it black, coffee can interfere with blood test results. That's because it contains caffeine and soluble plant matter, which might skew your test results.
Coffee is also a diuretic, which means that it will increase how much you pee. This can have a dehydrating effect. The less hydrated you are, the harder it can be for the nurse or other medical professional who's doing your blood test to find a vein. This can make the blood test harder or more stressful for you.
What about water?
It's fine to drink water before a blood test, unless you're instructed otherwise by your doctor. This is different from some surgical procedures, which may require you to have a totally empty stomach.
Tap or bottled water are both OK, but leave the squeeze of lemon for another time. Seltzer and club soda are off-limits. Carbonated beverages, flavored or otherwise, shouldn't be consumed during a fast, and neither should any type of tea.
Water hydrates your body and makes your veins plumper and more visible. Stay hydrated in the two days before your test. Also try drinking several glasses of water right before the blood draw to make it easier for the nurse or other medical professional to find a vein.
REGENICS' COMPREHENSIVE BLOOD PANEL INCLUDES: