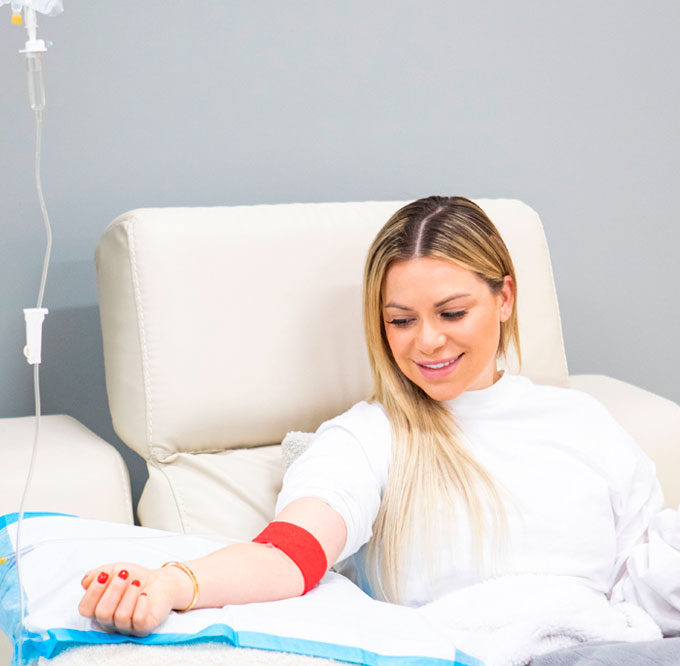 IV Infusions
IV infusions, the perfect supplement. In an ideal world, our diets would provide us with the optimal amount of essential nutrients we need to not just survive, but thrive. Unfortunately, modern living and agricultural practices make it harder than you'd think.
The human body is made up of trillions of cells. These cells require a minimum amount of vitamins and minerals in order function. But what if you're not satisfied with JUST functioning?
In order to optimize your health we have to look at things on a cellular level. When your cells have the optimal level of vitamins and minerals, their channels open, allowing the cells to communicate with each other and function at utmost efficiency.
REGENICS OFFERS THE FOLLOWING IV INFUSIONS
How IV Therapy Works
IV infusions are administered through an intravenous drip and are usually relaxing. We use an angiocath, meaning you can move your arm and the experience is pain-free. Treatments most commonly take about 30 minutes but may take up to 120 minutes or longer depending on the type of IV prescribed.
Treatment frequency varies and is dependent on many factors. It can range from weekly to monthly or as needed during times of high stress or immune challenge.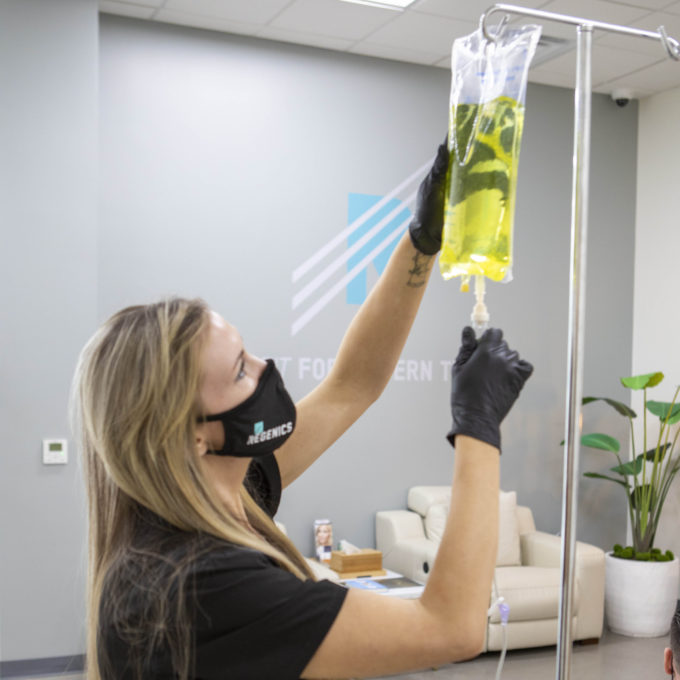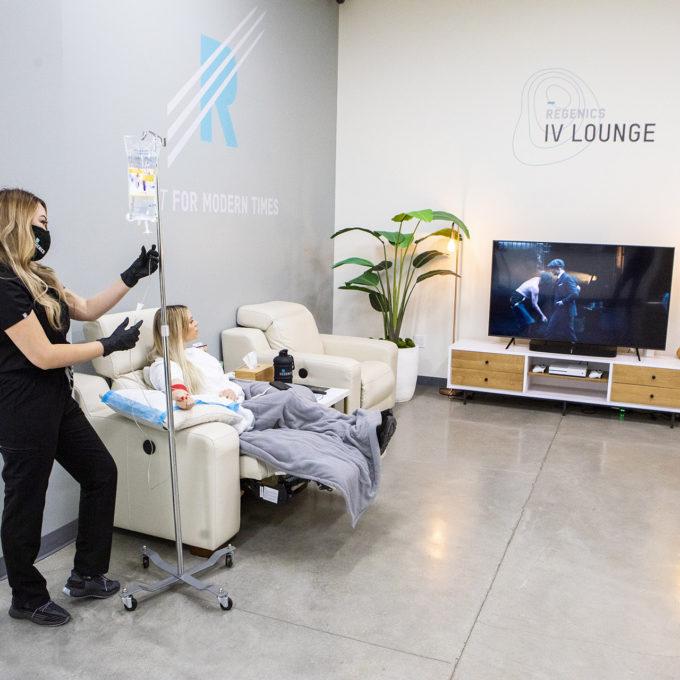 ARE ORAL MULTIVITAMINS ENOUGH?
Unfortunately, many of the products sold by common vitamin brands are not made with quality ingredients. But even when oral supplements are made with quality ingredients their bioavailability; or the amount that is actually absorbed into our system is very low, approximately 10-20%.
When administered through IV, vitamins and minerals are able to bypass the GI system, ensuring that 100% of the given amount is available for our cells to use. With optimized cellular function, the body is able to absorb up to 20X more nutrients than before. IV therapy can be used to improve a wide range of health concerns including decreased energy, brain fog, hangovers and more.
Why should you consider IV Therapy?
Many people with immune deficiencies, chronic fatigue, and pain are forced to bounce from doctor to doctor without ever receiving concrete answers as to what is wrong with them. Many of these people suffer from nutrient deficiencies and other imbalances that can be helped through IV therapy. This treatment is a unique and powerful option that is very useful for certain conditions because it achieves better results, faster.
Whether you want to enhance your energy, improve your overall health, treat specific medical conditions, or maintain optimal health and work on preventing future conditions, IV vitamin therapy can replenish the nutrients your body needs for optimal health. IV therapy is the ideal preventative therapy.
IV drip therapy can be customized to provide
100%

of the vitamins and nutrients needed per individual