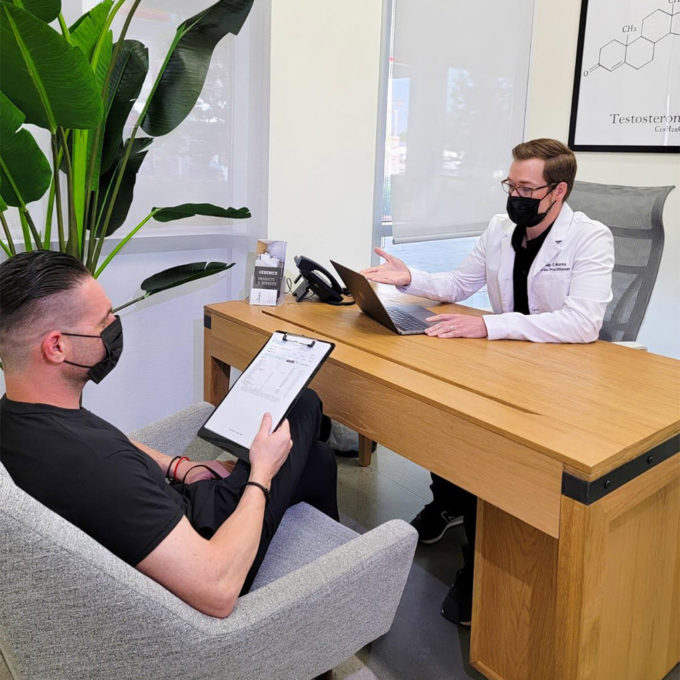 TESTOSTERONE REPLACEMENT THERAPY
The slowing down of hormonal production is a natural part of aging. But that doesn't mean you can't be your full you. At Regenics, our highly trained TRT specialists carefully analyze your blood work to develop a personalized testosterone optimization program that helps boost your Testosterone Optimization and regain your vitality.
Testosterone is far more than a 'molecule' associated with being a man. It is literally the lifeblood and the foundation of all things related to male health.
AGE-RELATED DISEASES CAUSED BY SUBOPTIMAL TESTOSTERONE
Depression
Inflammation
Infertility
Obesity
Heart disease
Prostate disease
Diabetes
Metabolic Disorder
Insulin Resistance
Let's make one thing clear: you're not the only one living with low testosterone. The gradual decline of testosterone production, or andropause (the male form of menopause), affects approximately 13 million men between the ages of 40-55 in the US alone. Symptoms associated with low testosterone are a lack of energy, low sex drive, weak erections, poor sleep, diminished muscular strength, decreased performance, difficulty concentrating, and depression.
Recognizing the symptoms and speaking to one of our TRT specialists to create an individualized plan is the best way to minimize the long term health risks.
By taking care of your low testosterone, you don't just feel better. You live healthier.
Benefits of Testosterone Replacement Therapy Levels
CARDIOVASCULAR AND ENDOTHELIAL HEALTH
Testosterone can aid in red blood cell production necessary for physical exertion and performance as well as aid in maintaining a strong healthy heart.
IMPROVED LEAN MUSCLE MASS
Testosterone Optimization levels can decrease fat while increasing muscle size, strength, and endurance. Those who combine Testosterone Optimization therapy with a regular, healthy exercise regimen generally notice the best improvements of. 
INCREASED BONE DENSITY AND STRENGTH
As men age their bone density tends to decline with drops in testosterone, leading to an increased risk of fractures, breaks, and osteoporosis over time. Testosterone plays a key role in bone mineral density, as well as in supporting improved musculature for increased support and mobility.
BETTER COGNITION AND MEMORY
A number of studies have demonstrated that higher testosterone is associated with a reduced incidence of developing Alzheimer's disease. 
RESTORED LIBIDO AND VITALITY
It's a generally well-known fact that men's sex drive and libido are closely tied to testosterone and testosterone production, which higher levels generally equating to increased desire. Low testosterone can also impact the ability to get and maintain an erection, as well as the quality of erections. 
ENHANCED MOOD AND SENSE OF WELL-BEING
Symptoms of low testosterone can present not only physically, but also emotionally. Reduced levels of testosterone have been linked to fatigue, irritability, and depression. Fixing low testosterone levels may help with both anxiety and depression.
Consult with a Hormone Replacement Expert
Most healthcare professionals do not provide testosterone replacement therapy. It is best to consult a hormone replacement expert who is familiar with up and coming research and practices medicine in the specialty.
Dose adjustment is vital during therapy. Proper dosing required to maintain lean mass, fat mass, and sexual function varies by person. Trust a seasoned hormone replacement expert to optimize your wellness of TESTOSTERONE REPLACEMENT THERAPY.
Do you have symptoms of low testosterone? Are you ready to take the next steps to be well? Our experts are here to get you started on your journey today. Testosterone replacement therapy begins with a Comprehensive Blood Panel.  Schedule a blood test now or contact Regenics to talk to a testosterone replacement expert today.